Learn how the different Sparta Scans can be utilized to guide return from injury more objectively.
Injury rehabilitation protocols are predicated on subjective measurements that, while often successful, limit the practitioner and athlete from full confidence in each step along the way. Utilizing Sparta Science technology in the rehabilitation process provides objective measurements that offer a full-body assessment of strength and proprioception.
The Sparta Scan Kit enables the objective assessment and monitoring of strength, balance, asymmetry, proprioception, and dynamic movement to guide criteria-based rehabilitation protocols. The different unique assessments (e.g., Jump, Balance, Plank) can be utilized throughout the rehabilitation process in a practical and scalable way. This objective information not only provides practitioners with more information but can create transparency and alignment within organizations and clarity to injured patients, athletes, and soldiers on where they currently stand and how far they need to progress to return to activity.
Sparta Science's suite of movement Scans enables:
Example Criterion-Based Rehabilitation Guidelines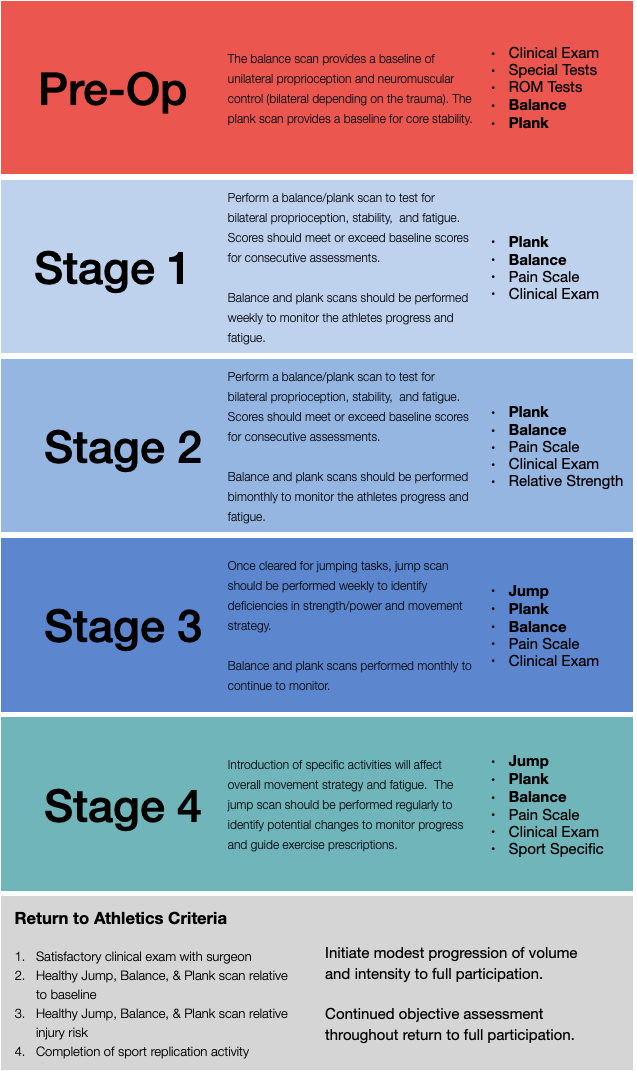 Jump (mid to late-stage rehabilitation)
Strength
Neuromuscular Function
Movement Compensation & Injury Risk
Fatigue & Readiness
Balance (all stages of rehabilitation)
Proprioception
Unilateral Stability
Balance & Coordination (concussion)
Fatigue & Readiness
Plank (all stages of rehabilitation)
Core Stability
Upper Extremity Function
Core Strength & Endurance
Fatigue & Readiness