Introduction
The #1 goal for the University of Pennsylvania Athletic department is to improve the health and wellness of their athletes. As an Ivy League school with a large number of athletic teams (33) and limited resources there were many challenges they were faced with. With the goal in mind, the Penn Performance staff had to find a central system to align the athletic department.
The system had to be scalable, efficient, and actionable in order to provide programming for a 1000 student-athletes with only 4 full-time performance coaches. Additionally, the strength and conditioning staff was looking for a way to eliminate the "guesswork" in the weight room by identifying an athlete's weak link with objective assessment. The Sparta system was identified as a potential solution to provide quick and accurate movement assessment and software to provide a scalable approach to take action off of this data.
Prior to this search for a unified system, there has never been any technology used on campus to help assist and aid the performance staff. Assistant A.D. Eric Laudano was also striving to separate Penn from other universities by pioneering the implementation of technology to ultimately provide a better outcome (decrease injuries and increase wins) for their teams and student-athletes. Sparta provides a scalable platform to decrease injuries as well as increase performance in order to bring home more championships.
Challenge
Identify student-athletes deficiencies, provide individualized programming to mitigate the risk of injury, and optimize performance utilizing a scalable system.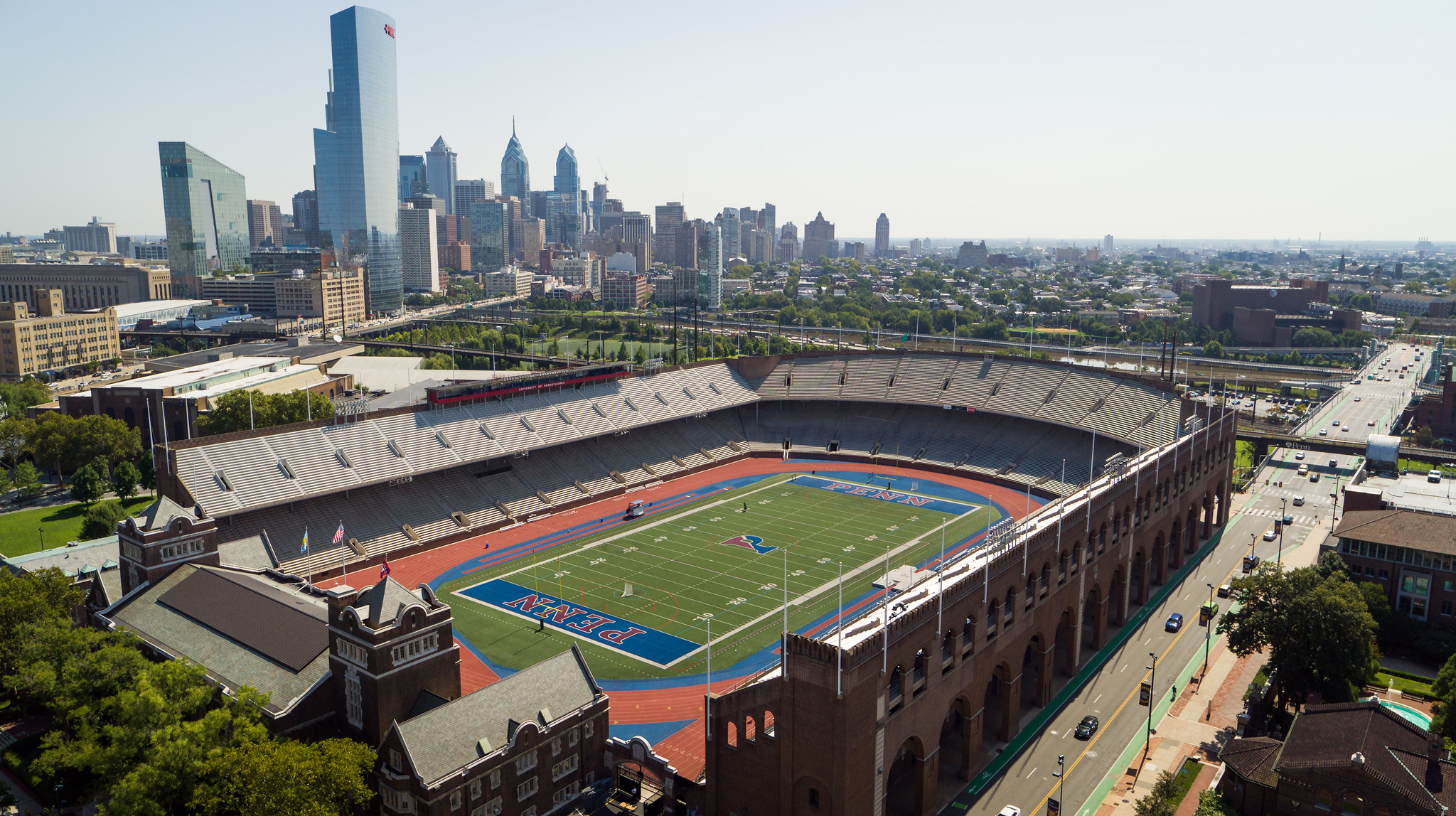 Solution
Overall Implementation - The athletic department introduced the Sparta platform in 2015. Penn used the suite of Sparta scans to assess each student-athletes movement patterns, identify injury risk, and create an individualized training program. All 1000 student-athletes were scanned throughout the year as determined by the sport.
The data was shared among the athletic departments (athletes, sports coaches, performance staff, leadership). Implementation strategy and compliance depended on the performance and sports coach. With 33 varsity sports, all teams were able to utilize the Sparta system but some teams had more consistent usage than others. In future analysis (see below) teams were split into two separate groups: Sparta user teams and Non-user teams. The Sparta users are defined by compliance, scanning every 3-4 weeks, and adjusting programming based on changes.
Check out this webinar featuring Tracy Zimmer, former Strength and Conditioning Coach at UPenn
Assessment Strategy
Sparta User teams would scan every 3-4 weeks. With the ratio of student-athletes to coaches, the athletes had to become self-sufficient and learn how to scan themselves to help with the limited staff. Upperclassmen would scan themselves on their own time outside of training and understood the protocols for the assessments. This allowed the performance staff to focus and give the attention with new and younger athletes to educate them during and after assessment.
Non-user teams would scan a minimum of 3 times a year and would assess during designated testing weeks.
Intervention Strategy
In the first year, the performance staff began utilizing the mobile Sparta web app with their athletes, introducing cell phones to the weight room. At first the staff was skeptical to allow phones to follow and record workouts but quickly saw improvements in efficiency by allowing for technology to track training instead of using standard pencil and paper workout cards.
While adjusting to the new system in year one, the performance staff made some changes to program individualized plans. Initially they added correctives based on Load, Explode, Drive variables but did not effectively move the needle. The staff expected to see more targeted changes from the assessments and decided to make adjustments the following year by incorporating more suggestions from the Sparta platform.
Sparta Users Versus Non-Users
Although both users used the jump scan to create individualized programs, the difference is how they implemented the Sparta recommendations and scan frequency.
Sparta Users implemented training recommendations through Sparta's web app. In the web app, load, explode, drive classifications were set with exercise selection, reps, and progression. The coaches would assign the workouts through the web app depending on what classification the individual fit. Through the Sparta app, athletes could see their workouts and log weights to keep track. Programs would change monthly in sync with the scan frequency based on the results.
Non-Users did not use the Sparta platform to follow or track workouts. The coaches created templates and selected their own exercises based on the variable that they were trying to influence. Due to scan frequency, programming and decisions made off of the jump scan were adjusted a few times a year.
Education Strategy
With 1000 student-athletes and limited resources, a strategic approach was needed to ensure the athletes were properly educated on the Sparta Science technology and their Movement Signature. Each year during athlete orientation, the performance staff would educate the student-athlete body to explain what Sparta is, what it means, what to expect. During this time the staff would teach the procedures and protocols when assessing to alow for future self-assessment to improve efficiency. A major topic during this time is getting the athletes to understand the "why" behind the tech and programming to create buy-in and trust.
The performance staff would also have a yearly departmental meeting including sport coaches and administration. The ability to educate the sports coaches was crucial to help communicate with the team the importance and understanding of what the performance coaches are trying to accomplish. Outside of the department meeting, performance coaches spent time with individual sport coaches to educate the why's behind the assessments and what they're doing in the weight room.
A Sparta customer success manager would visit on campus annually to present to the whole department both medical and performance to review assessments and discuss new findings.
Reporting Strategy
Internally, the athletic department would create reports starting at leadership and then presented to all coaches. The department kept track of Injuries by sports/season, scan compliance, logged workouts, scan positive changes, scan change warnings.
Benefit


The Sparta platform enabled the University of Pennsylvania athletic department to assess and reduce player injury risk and improve student-athlete health and performance. From the Sparta scans, the performance staff is equipped to provide individualized training to address the variables putting the athlete at risk. Sparta provides a clear message so the coaching staff, athletes, sports medicine, and administration can all speak the same language. This transparency allows Penn Athletics to truly live by their tagline "Science and Safety for Success." Since using Sparta, Penn has had a reduction of inquiries, surgeries, and doctor visits resulting in dropping insurance claims over 50%.

"Sparta allows us to quantify athletic parameters in a reliable and reproducible way, giving us data points to follow student-athletes' performance in a way that's not previously been possible, It's one of the cornerstones of our sports performance program, allowing us to tailor training to a specific sport and athlete and also identify injury potential parameters, monitor lifestyle elements and train to mitigate any risks."

— Dr. Brian J. Sennett - Chief of Sports Medicine, University of Pennsylvania and Head Team Physician, Penn Athletics
Check out this webinar featuring Dr. Brian J. Sennett
Results
Injuries & Medical Costs
Published Research: Reduction Of Injury And Related Costs After Implementation of the Sparta System In Division I Athletes
After a successful implementation of the Sparta system, the University of Pennsylvania looked to validate its use internally. The above published abstract discusses trends seen when comparing medical costs, injuries, and insurance costs between Sparta Users and Non-Users (see below).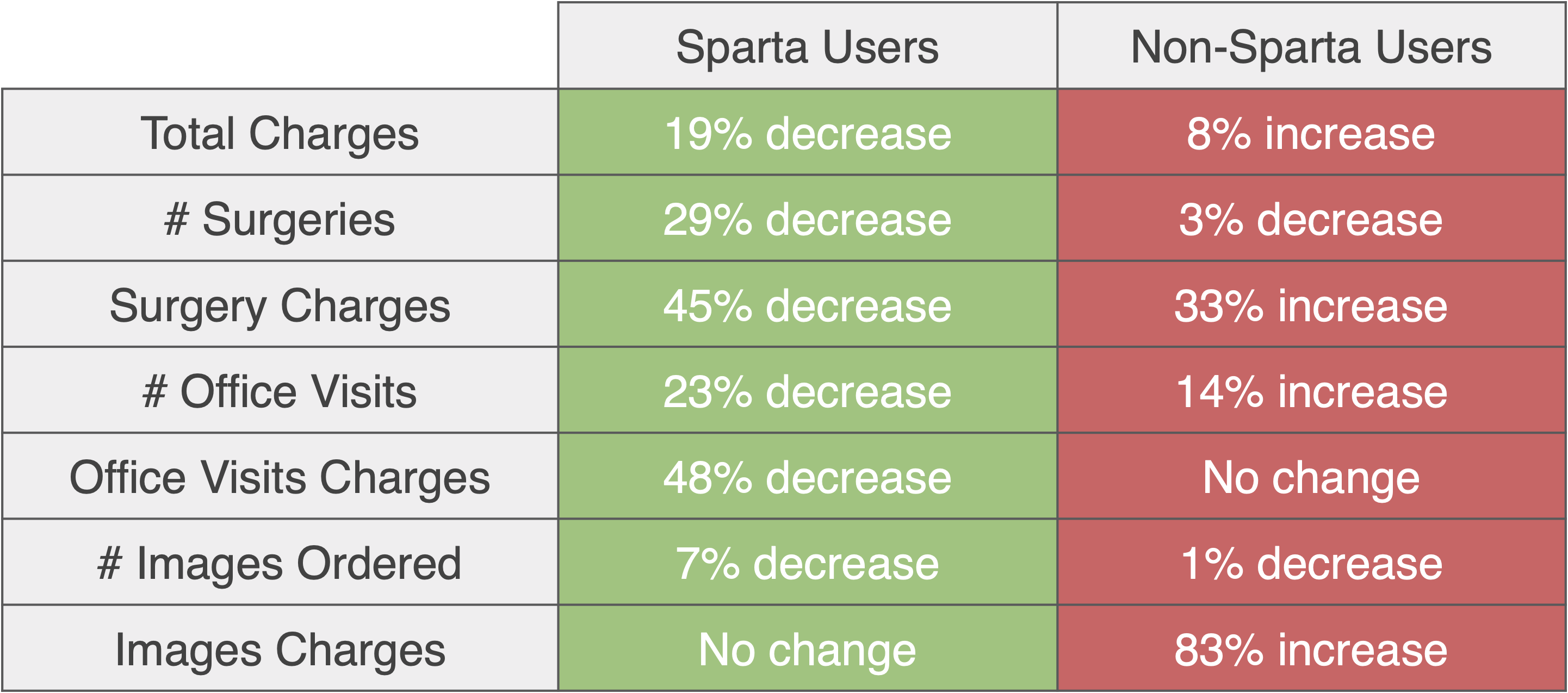 Additionally, analyses were performed looking for reductions in specific types of injuries. For example, during a four year period (2015-2019) decreases of 76% in knee sprains, 68% in hamstring strains, and 48% in ankle sprains were observed.

Winning
In sports organizations, the ultimate goal is to win! Penn kept track of the wins and losses between Sparta Users versus Non-Users. 12 out of 33 varsity sports are Sparta Users, 9 out of 12 Sparta users finished in the top half of the Ivy League.

Research
The University of Pennsylvania is home to the top teaching and research hospital and the Wharton School of Business. As of this writing, Penn has published five peer-reviewed articles utilizing the Sparta Platform analyzing the reliability, validity, and efficacy of the system independently of Sparta. The title of the papers and links to their write-ups can be found below.
Also: Check out this webinar feature Dr. Marissa Pontillo, University of Pennsylvania Health