The Sparta Cloud has tiered access capabilities, allowing you to scale the level of administrative permissions given to different stakeholders.
Administrator Types
There are four types of roles for Administrators.
Administrators can be granted permissions at the Organization level (which would mean they inherit permissions at all the Teams), or at the team level (can be granted access to one or many Teams)
Reporters can view aggregated reports for teams and groups, or organizations. Reporters cannot view data from individuals or view profiles.
Viewers can view all the data for their team/organization including aggregate reports and individual profiles. Viewers cannot edit or delete any items in the system.
Managers can view all data for their team/organization. Managers can also add new users to the system and scan them. Managers cannot invite admins to the system.
Owners have full access to their team or organization including inviting new administrators.
Granting Administrator Permissions


Option A: Create a New User with Admin Permissions at a specific team.
1. Navigate to a Team
2. Follow the video in This Guide to create a new User
3. Select Option for "Give user admin permissions for 'Team"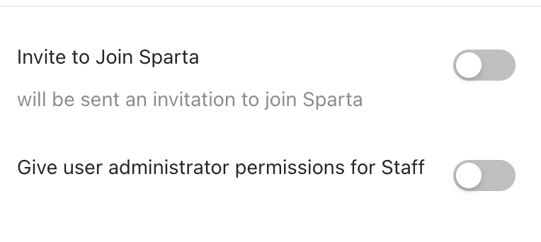 4. Select Type of Administrator Role and click "Add"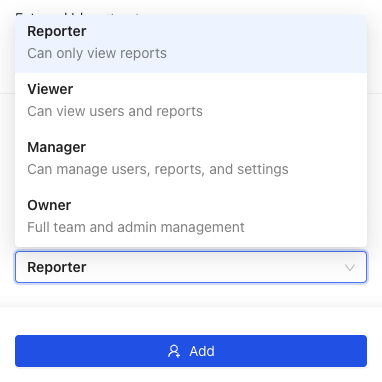 Option B: Grant an existing User new Administrative permission for the Organization
Navigate to Organization Home
Click on "Settings" Tab


Toggle to "Admins"


Select 'Add Admin'

Choose User and Select Permission Type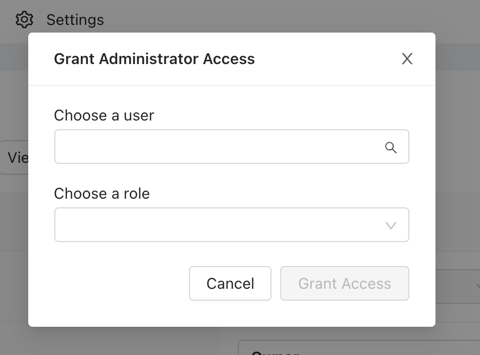 Option C: Grant Existing User new Administrative Permission at a Team
1. Navigate to a Team
2. Click on Settings

3. Toggle to "Admins"
4. Click "Grant Administrator Access"

5. Choose User and Select Permission Type, then click "Grant Access"